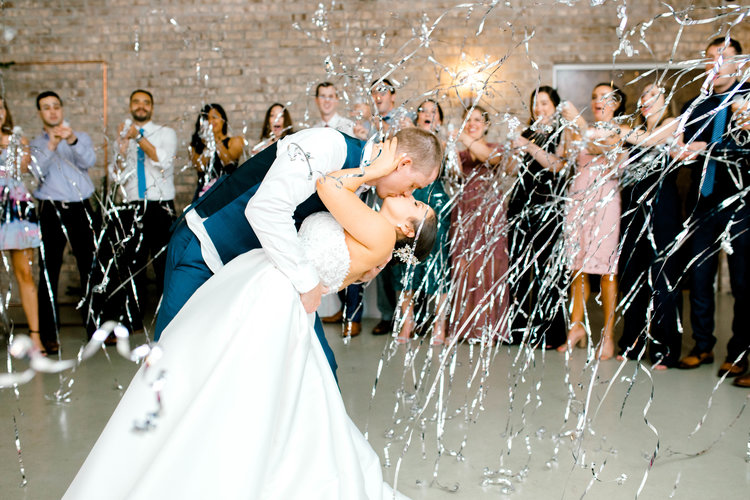 This couple stole my heart the first time I met them over tacos and margaritas this past February. I mean let's be real, tacos are always a good idea! We chatted, talked through wedding plans, and instantly clicked. I loved hearing about their incredible engagement story in Italy and learning about Missy and Ricky's long-standing relationship for 10+ years! I whole-hearty believe that there is something particularly special about couples who watch each other grow up, then promise to spend forever together. It's a deeply rooted bond like no other. Needless to say, I learned very quickly that these two were undoubtedly meant to be!
As Missy and Ricky's wedding weekend plans unfolded, I knew that their big day would be unforgettable. These two tied the knot this past May at Chatham Station in Cary, one of the triangle's newest venues. What an amazing venue, WOW! I was so impressed with the layout, natural light, and overall aesthetic. Missy and Ricky did such an incredible job planning their day from start to finish. I'm really excited to share these images because it was such a sweet, intimate day filled with meaningful and intentional details.
Missy and Ricky, thank you for trusting me with these precious memories and your special day. It was a dream! Congrats again Missy & Ricky!
Missy & Ricky's Amazing Wedding Vendor Team
Caterer – Catering by Design
Photographer – Megan Kearns Photography
Ceremony and Reception Venue – Chatham Station
Florist and Wedding Style and Design – Sweet SaraBelle Weddings
Makeup Artist and Hair Stylist – Mena Garcia
Wedding Gown – New York Bride and Groom
Videographer – Point200 Videography
Calligraphy – Letter Me Lovely
Cake – The Cupcake Shoppe
Missy & Ricky's
Wedding Timeline
5:00 – DJ set up for the ceremony w/mic for the officiant and a mic ready for use
Prelude: Beautiful Crazy, Say You Won't Let Go, Speechless, Forever Girl, Sway, Die A Happy Man, 19 You And Me, Pushing Up Daisies, You're Still The One, I Met A Girl, Fight Song (final song before processional)
Pre-Processional (family taking seats): Perfect
Bride Entrance: Can I Be Him 
Recessional Song: Is This Love
6:00 – Cocktail Hour
6:40 – Grand Entrance – Songs are Yeah, and I'm The One
Bride and Groom!!
6:45 – First Dance
Song is Obsessed by Dan and Shay 
6:50 – Father/Daughter Dance
Songs are My Little Girl, and Get Down Tonight
6:55 – Mother/Son Dance
Songs are The Baby, and Little Red Corvette
7:00 – Welcome Toast by Father of the Bride
7:40 – Blessing by Traci
7:45 – Dinner Begins
7:50 – Toasts
7:55 – Cake Cutting – Stupid Love
8:00 – Dancing Begins!
10:15 – Last Slow Dance – She's Everything
10:20 – Last Fast Dance – Wagon Wheel
10:25 – Poppers Exit!