All Around Raleigh DJ Company is Proud to Support Marriage Equality!
---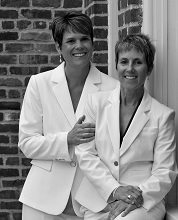 All Around Raleigh DJ is FANTASTIC! They recently DJ'd our wedding/celebration […] All of our guests commented about the DJ and the music that evening…he helped us find our first dance song, made announcements and ensured the flow of the evening went flawlessly, incorporated music videos, toasts, and even 'changed things up a bit' to make the entire evening special. We would recommend them to anyone for any event. The evening was magical – we are still smiling :o)" – Karen & Kathy
---
Love is love!  
We are proud to be an ally to all the amazing LGBTQ+ wedding DJ service for same sex weddings From the moment when we performed for our first same-sex couple's wedding celebration, our company has been dedicated to giving every couple out there the opportunity to have a rockin' dance floor on their wedding day. All Around Raleigh DJ supports the rights of all couples whether they are gay, lesbian, transgender, or bisexual to marry legally. We have DJed for hundreds of nontraditional weddings from day one. Our whole team is dedicated to supporting marriage no matter who the client may be.
We invite you to meet with one of our DJs to make plans for your special day and know that we can be trusted. For more information or to request an appointment, please e-mail us at eric@allaroundraleighdj.com or give us a call or text to 919-757-8296.
We are more powerful together than apart!