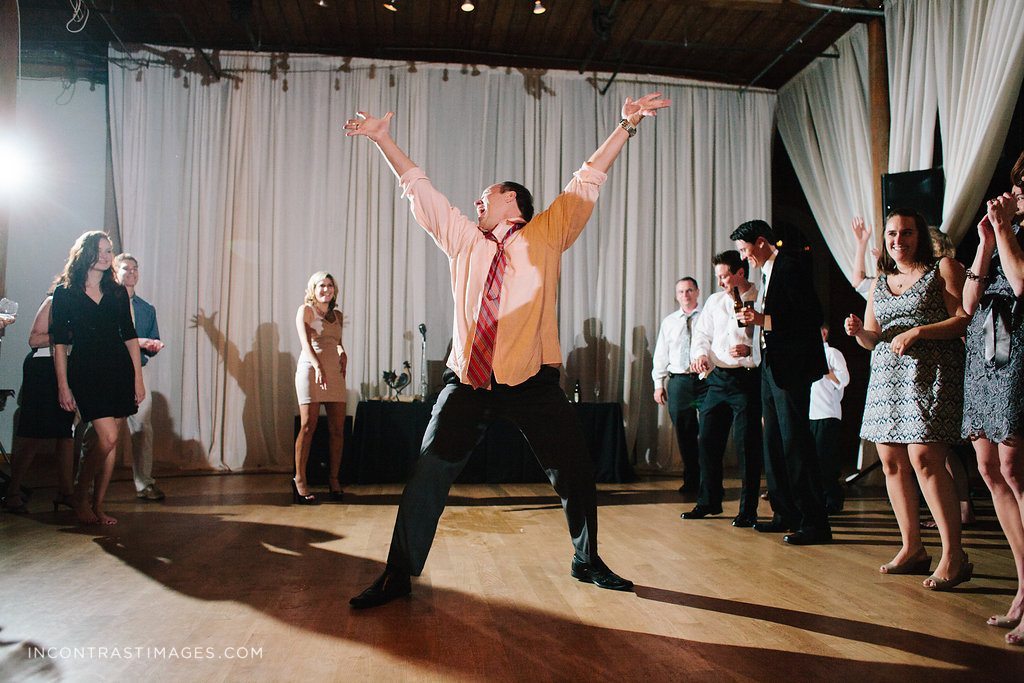 Meg & Jason were married and had their wedding reception at The Cotton Room in the fall of 2014.  Jason and his family are Greek so of course we had to have some traditional Greek music and dancing!  This one started off a little formal but quickly turned into one of the craziest dancing crowds that we have seen.  We helped the bride and groom plan everything from Texas via Skype and e-mail where they live today.  There was some sort of crazy history of Jason dancing to 'Billie Jean' and they told DO NOT play it unless requested by the bride and groom and sure enough at about 11 pm we got the 'ok' (photos below!).  Thanks for being our clients Meg & Jason and best wishes. We will never forget your wedding!
Here is some of the Greek music that we played:
Aravod – Kalamatiano

Trio Hellenque – Kalamatiano

Michael Hartophilis & His Orcehstara – Kalamatiano 

Haralabos Garganourakis – Pentozalis
Meg & Jason's Vendor Team
Venue:  The Cotton Room 
One of Durham's most popular wedding venues and one of our absolute favorites.  Just look at this place in the photos below … beautiful and so original.
Officiant:  Reverend Robin Renteria 
Robin always treats her clients and their incredibly important day with the respect it deserves and did a fantastic job for them!
Photography:  InContrast Images 
They exceeded our expectations as always!  Elisa & Trey are an absolute pleasure to work with and, as you can see below, very talented.
Megan & Jason's Wedding Planner
The Cotton Room, Durham, NC
6 pm – DJ set up and playing music.  Ceremony musicians will start playing.
6:30 – Ceremony Begins
DJ will provide microphones for ceremony musicians and Officiant
6:55 to 7:50 – Cocktail Hour
8:00 – Grande Entrance
Song is 'Young Blood' by The Naked and Famous
Melissa and Carter
Adam and Michael
Sarah and Nick
Jessica and Kyle
Maggie and Aaron
Mr & Mrs Jason and Meg!!
8:10 – Dinner Begins
Blessing by Meg's Father John
8:50 – Toasts
Meg and Jason will give a quick toast before Aaron and Maggie
Best Man and Matron of Honor
9:00 – First Dance
Song is 'I Would Do Anything For You' by Foster the People
9:05 – Father/Daughter Dance
Song is ''Isn't She Lovely' by Stevie Wonder (end at ~2 min)
John and Meg
9:10 – Mother/Son Dance
Song is 'Momma' by Boyz II Men (end at ~2 min)
Jason and Tamara
9:30 – Cake Cutting
Song is 'Sweet Disposition' by Temper Trap
9:35 – Party Time!!
12:00 – Expected end of Meg & Jason's Wedding Spectacular