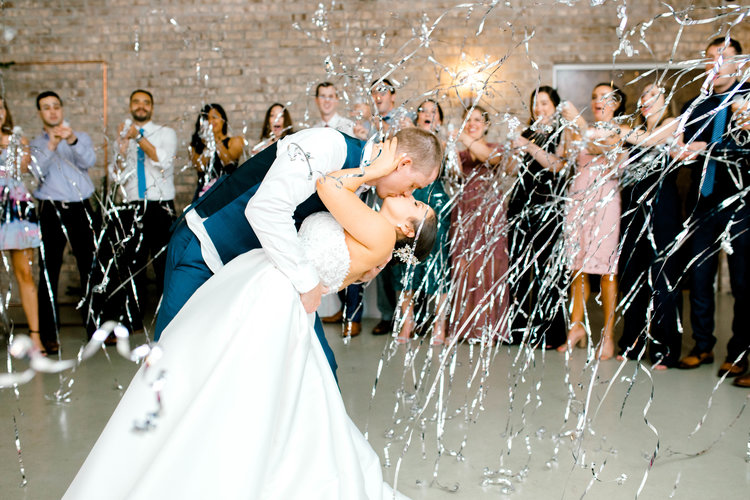 Missy and Ricky tied the knot on a beautiful late spring evening at Chatham Station in Cary, NC.  What an amazing wedding venue they chose!  Chatham station has tons of natural light and whitewashed brick which makes for great photos.  The layout, design, florals and the overall timeline were incredibly well thought out by Sweet SaraBelle Weddings & Events.
Our newest favorite wedding photographer, Megan Kearns Photography, had a connection with this couple that was obvious.  You're going to love her work in the gallery below. Missy and Ricky have been together for over ten years and it showed on their wedding day.  They shared their heartfelt love for each other throughout the evening. They danced together a lot and enjoyed each other the whole each other's company throughout the evening.
Missy's father's speech was really emotional, and even though it took him a couple of tear filled pauses to get through it, he truly conveyed how much he loved both Missy and Ricky. After the meal was over, Missy and Ricky's friends and family rushed the dance floor and kept DJ Evan busy with tons of great requests all night. Everyone had a blast on the dance floor!  Finally, as the night came to an end, Missy and Ricky had one of the best popper exits (cool photo alert) we have ever seen!
Thank you for trusting us with your spectacular wedding day. Congrats again Missy & Ricky!
Missy & Ricky's Amazing Wedding Vendor Team
Caterer – Catering by Design
Photographer – Megan Kearns Photography
Ceremony and Reception Venue – Chatham Station
Wedding Planner, Florist and Design – Sweet SaraBelle Weddings
Makeup Artist and Hair Stylist – Mena Garcia
Wedding Gown –New York Bride and Groom
Videographer – Point200 Videography
Calligraphy – Letter Me Lovely
Cake – The Cupcake Shoppe
Missy & Ricky's
Wedding Timeline
5:00 – DJ set up for the ceremony w/mic for the officiant and a mic ready for use
Prelude: Beautiful Crazy, Say You Won't Let Go, Speechless, Forever Girl, Sway, Die A Happy Man, 19 You And Me, Pushing Up Daisies, You're Still The One, I Met A Girl, Fight Song (final song before processional)
Pre-Processional (family taking seats): Perfect
Bride Entrance: Can I Be Him 
Recessional Song: Is This Love
6:00 – Cocktail Hour
6:40 – Grand Entrance – Songs are Yeah, and I'm The One
Bride and Groom!!
6:45 – First Dance
Song is Obsessed by Dan and Shay 
6:50 – Father/Daughter Dance
Songs are My Little Girl, and Get Down Tonight
6:55 – Mother/Son Dance
Songs are The Baby, and Little Red Corvette
7:00 – Welcome Toast by Father of the Bride
7:40 – Blessing by Traci
7:45 – Dinner Begins
7:50 – Toasts
7:55 – Cake Cutting – Stupid Love
8:00 – Dancing Begins!
10:15 – Last Slow Dance – She's Everything
10:20 – Last Fast Dance – Wagon Wheel
10:25 – Poppers Exit!