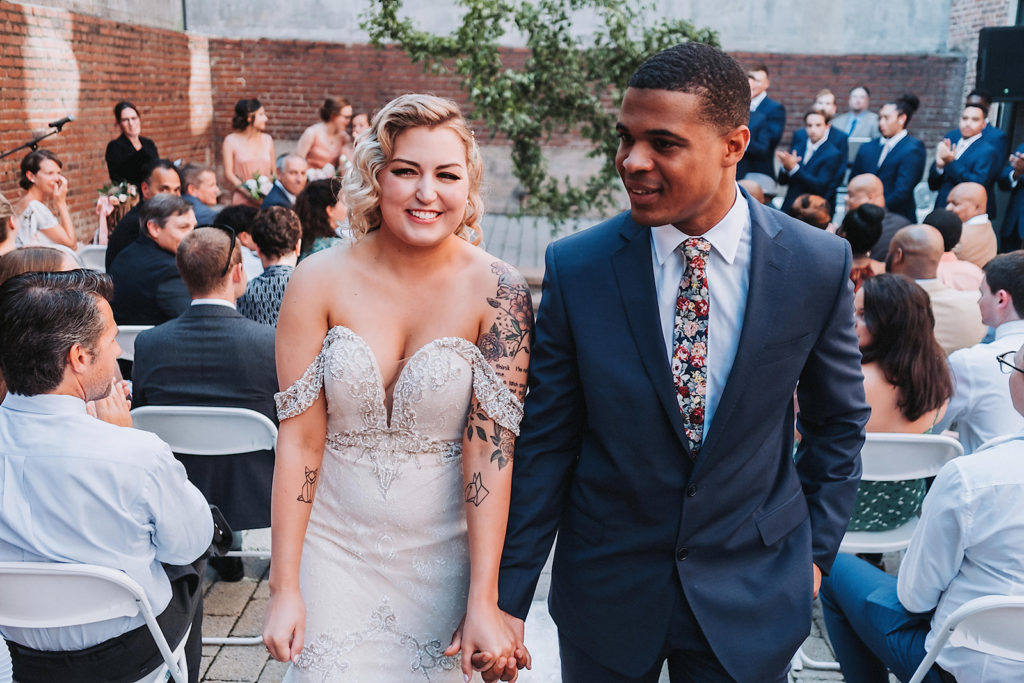 Darren and Kathleen were married in downtown Raleigh at Jiddi Space and Courtyard.  The courtyard served as the location for the wedding ceremony, cocktail hour, and dancing.  The processional for the ceremony was 'I Can't Help Falling in Love' by Daniel Jang and recessional was 'This Will Be' by Natalie Cole. After the ceremony and cocktail hour outside in the courtyard dinner, toasts, and the cake cutting were inside.  For the cocktail hour, the clients chose a great mix with the likes of Nat King Cole and Ella Fitzgerald. The music for dinner was more contemporary music with Jason Mraz and Jack Johnson.  Immediately after dinner, their first dance was to 'L.O.V.E.' by Nat King Cole and then DJ Michael got dance floor hopping right away.  The dance floor stayed full all night and it was such a fun wedding to be a part of.  They ended the night by with all of their guests circled around them with 'Country Roads' by John Denver setting the tone for a great end of the evening!
Kathleen & Darren's Wedding Vendor Team
Caterer: Sitti Restaurant 
Ceremony & Reception: Jiddi Space & Courtyard
Photographer:  John Branch IV Photography
Linen Rental: DeeJay's Event Rentals
Wedding Cake:  Buttermilk Boutique
Florist:  Urban Flora VA 

Darren & Kathleen's  Wedding Planner
Jiddi Space and Courtyard, Raleigh, N.C.
4:30 – Ceremony Seating Music – Vitamin String Quartet
4:45 – Seating of the Mothers
'In Your Eyes' by VSQ
4:48 – Entrance of Bridal Party
'You're Beautiful' by VSQ
4:51 – Processional
'I Can't Help Falling In Love' by Daniel Jang
5:10 – Recessional
'This Will Be' by Natalie Cole
5:15 – Cocktail Hour – Big Band style
6:15 – Introduction of Bride and Groom
'Love On Top' by Beyonce
6:45 – Dinner Music – Acoustic then into Motown
7:30 – Toasts by Father of the Bride and Bride and Groom – Kathleen and Darren
7:40 – Cake Cutting to 'Sugar, Sugar' by The Archies
8:00 – First Dance to 'LOVE' by Nat King Cole
8:05 – Open Dance Floor!
10:45 – Last Song to Country Roads by John Denver