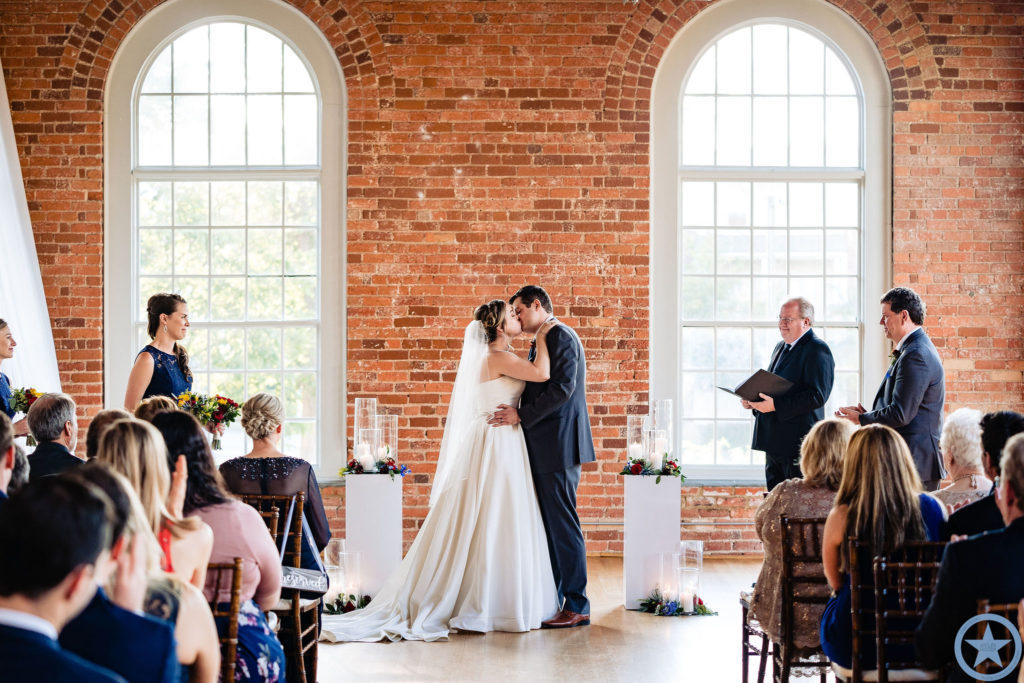 Talk about a beautiful, amazing wedding and a couple that were even more amazing to work with!  Jennifer & Wade had their dream wedding at The Cotton Room in Durham on a perfect spring day.  We got to provide audio for their wedding ceremony and their wedding reception.  We were very excited to work with with some of very favorite photographers from Kivus & Camera.  Thanks so much Wade & Jennifer and best wishes!
Jennifer & Wade's Durham Wedding Team
Venue:  The Cotton Room
Photography:  Kivus & Camera
Wedding Cake: Cinda's Creative Cakes
Wedding Uplighting:  All Around Raleigh DJ Company
Hair and Makeup:   The Makeup Addict
Wedding Officiant: Perry Hardison
Wedding Florist:  Tre Bella
Jennifer & Wade's
Wedding Timeline
The Cotton Room
Photographer is Kivus and Camera, Coordinator is Heather at The Cotton Room
6:00 – DJ set up for the ceremony w/mic for officiant and mic ready for use
Prelude music is

All of me (John Legend), The Luckiest (Ben Folds), Life on Mars (Bowie), Thunder Road (Springsteen from Born to Run), John Mayer, Beatles

Bride Entrance: I'm Yours (Jason Mraz)

Recessional: On Top of the World (Imagine Dragons)
7:00 – Cocktail Hour
8:10 – Grand Entrance
Song is 'Happy' by Pharrel

Jennifer and Wade!!
8:12 – First Dance
Song is '

If I Should Fall Behind' by Bruce Springsteen (Lucky Town album)
8:15 – Dinner
Blessing by Perry (officiant)

Billy Joel, DJ's Choice
9:10 – Father/Daughter
Song is '

Delan

ey Talks

to Statues' by Jimmy Buffett

Jennifer and Don
9:15 – Mother/Son
Song is 'In My Life' by The Beatles

Wade and Lisa
9:20 – Dancing begins!!
Thinking Out Loud (Ed Sheeran), Here on out (Dave Matthews Band)
10:00 – Cake Cutting
Song is 'Cake by the Ocean' by DNCE
12:00 – Expected End of Jennifer and Wade's Wedding
Last song is 'Shut Up and Dance' by Walk the Moon
DO NOT PLAY: Country, Taylor Swift, Boy Bands, Nelly
Songs/artists we like: Lady gaga, The Killers, Wagon wheel – Old Crow Medicine Show*, Born to run, Elton John, Outkast (Hey Ya), Michael Jackson, Black Keys, Avicii, Galantis, Silence (Marshmello), Take it Easy (Eagles)*, Africa (Toto)*, Drake, Mike Posner, Walk the Moon, Take on me (A-ha), Where are U now (Skrillex, Diplo), All Star, (Smashmouth), Eastside (Halsey), Dave Matthews Band, Jackson 5, Don't stop believing*, Billy Joel, Sweet Caroline, U2