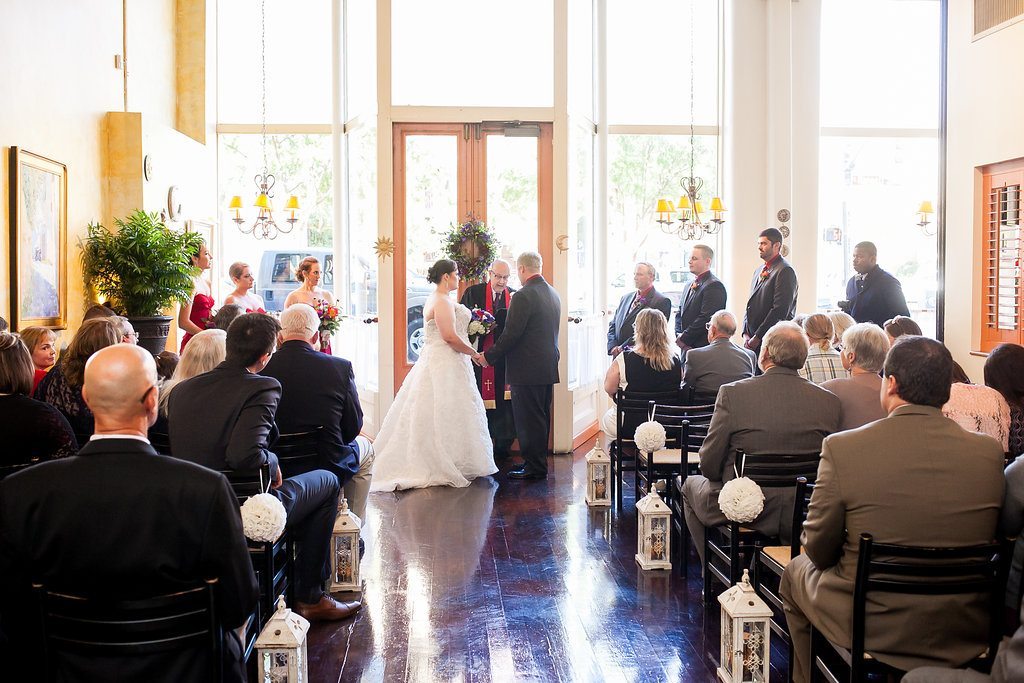 Caitlin & BJ were married and had their wedding reception at the casual, comfortable and spectacular Caffe Luna restaurant in downtown Raleigh, NC.  These two were so fun and laid back and they really let their personalities come through on their wedding day.  They chose some super fun and unique songs and were not afraid to make it 'their' day!  What a great couple to work with!
Caitlin

 & BJ's Wedding Vendor Team
Event Coordinator: Sweet SaraBell Southern Weddings and Events was amazing to work with as always.  This wonderful team of event planners helped make Caitlin & BJ's wedding day perfect.  Thanks SaraBell!
Venue: Caffe Luna is one of our absolute favorite venues to DJ at!  If you are looking for a casual, elegant, comfortable venue with absolutely amazing food then this is your wedding venue.
Photographer: Three Seventeen Photography was awesome to work with and awesome enough to share the spectacular photos below with us.  We love working with Niki and we highly recommend her!
Videographer: Stan Chambers Jr Photography did a fantastic job capturing the moment.  He worked really hard to capture the moment without being in the way. Great job Stan.
Linen Rentals: CE Rentals provided Caitlin and BJ with fantastic linen rental service.  Every single wedding that we do is a CE Rental wedding and they always take care of things beautifully.
Florist:  Fallon's Flowers once again provided perfect floral arrangements for our bride and groom.  They always deliver.
Wedding Cake:  Simply Cakes provided Caitlin and BJ with a perfectly designed and delicious wedding cake.  Very classic and very delicious!
Caitlin & BJ's
Real Wedding Timeline
Caffe Luna, Raleigh, NC
4 pm – DJ set up and playing music
4:15 – Ceremony Begins
Prelude Songs are instrumental versions of: 'You Are Always on My Mind' by Willie Nelson, 'Drift Off to Dream' by Travis Tritt, 'Let Her Go' by Passenger, 'Remember When' by Alan Jackson

Seating of Family song is 'God Gave Me You' by Blake Shelton (instrumental)

Bridal Party song is ' Love Your Love the Most' by Eric Church (instrumental)

Bride's Entrance song is 'Weenie Ride' (instrumental w/out saxophone)

Recessional song is 'You Are the Best Thing' by Ray LaMontagne
4:30 to 4:55 – Cocktail Hour
5:00 – Grande Entrance
Song is 'I Believe in a Thing Called Love' by The Darkness

Bobby & Amy

Darrin & Christin

Josh & Meghan

Mr & Mrs BJ and Caitlin!!
5:05 – Dinner Begins
6:00 – Toasts
Best Man, Maid of Honor and Matron of Honor
6:00 – Cake Cutting
Song is 'Sugar, Sugar' by The Archies
6:05 – First Dance
Song is 'You Make It Look So Easy' by Eric Church (start 30 seconds in)
6:10 – Father/Daughter Dance
Song is 'My Little Girl' by Tim McGraw
6:15 – Mother/Son Dance
Song is 'Simple Man' by Shinedown (end at 3:40)
6:20 – Party Time!!
8:00 – Expected end of Caitlin & BJ's Wedding