Large Event Production Customized For You
By All Around Raleigh DJ Company
All Around Raleigh DJ Company offers full-service event lighting and production services!  Our amazing team will take your event's style, goals and every other factor into consideration to create just the right experience for you and your guests.  We are experts in sound, video, lighting, trussing, stage, pipe and drape, MC and DJ services as well as event host and event production. We work with the biggest names in the Triangle area to throw the biggest and best events and can't wait to work with you!
We will design lighting that can transform your event space into any style you want whether it is energetic, modern, classy, romantic, visually exciting, or anything in between, we're here to deliver. We provide all types of lighting including wall uplighting, spotlights, textured walls, moving spotlights, table pinspots, projected logos and themes, lighting decor, uplighting, UV blacklight effects and even overhead string cafe-style lights.
Whether you're organizing an annual company meeting, training or sales event, awards banquet, charity ball, unique themed event, gameshow event, we are the perfect company to hire because of our experience, high-quality equipment, customer service and attention to details that gets overlooked too often these days.  No details is too small to get the attention that it deserves!
Our Large Event Production Services
Hosting, MC and DJ Services
The larger your event, the more important it is to have the right host! With All Around Raleigh DJ Company, our teams consists of the best MCs and DJs in the entire Triangle. We can do anything from simply introducing your speakers and keeping the program moving as scheduled to working the crowd and bringing the energy level up and packing the dance floor.
We are also an outstanding host for special themed events, game show-style events and more. No matter what your goals or the nature of your large event, you can count on our flexibility, creativity, people skills and professionalism.
Staging, Drapery and Trussing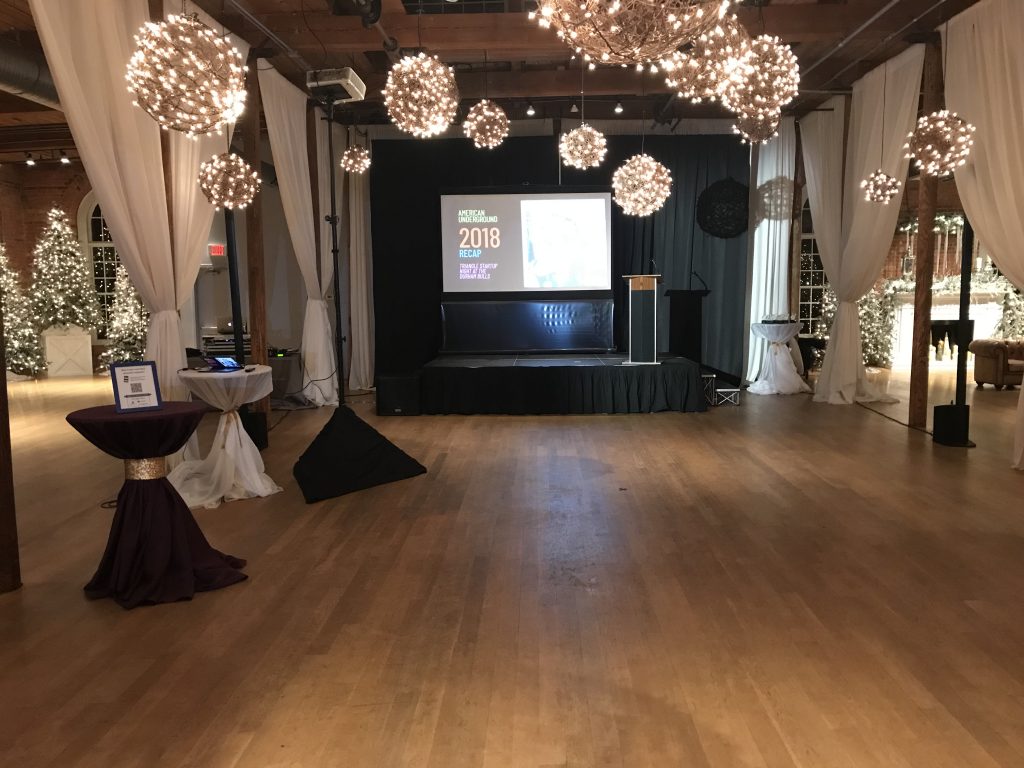 We have all the hardware and manpower needed to set up, manage and break down all your staging, drapery, trussing and more. With us, you'll get the most professional staging available, expertly managed from start to finish for your full peace of mind.
Video, Projectors, Projection Screens, TVs and Video DJ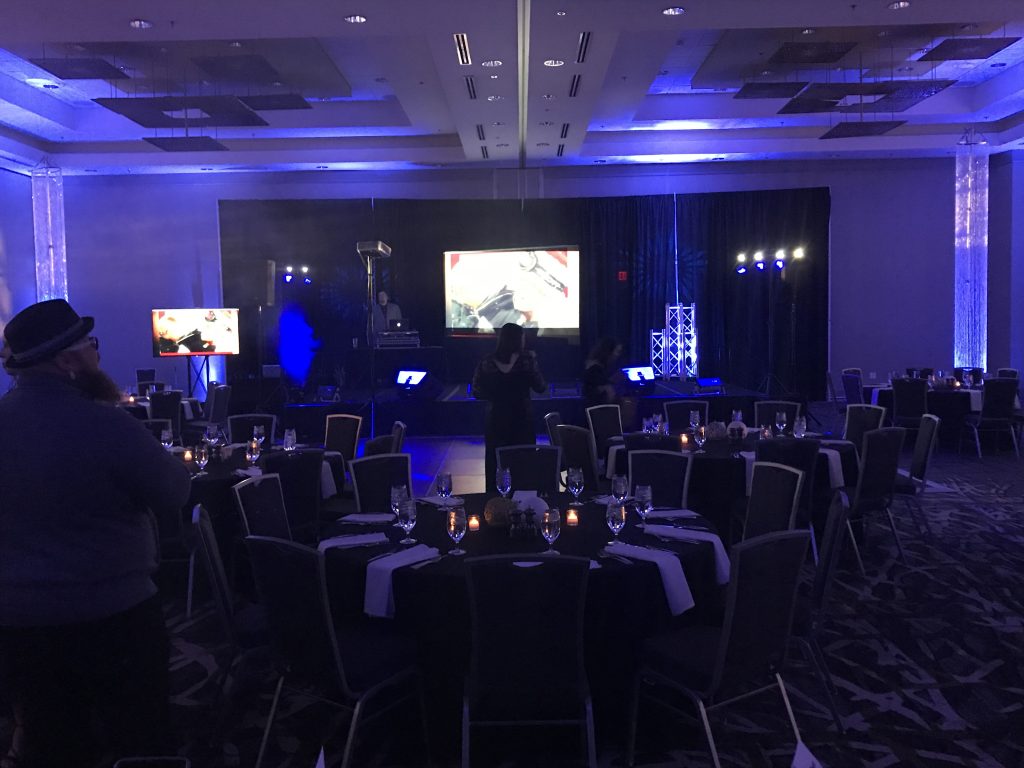 If you are doing an awards banquet, end of year event, holiday party or any other kind of event where you want video on a large screen then we are the company for you!  We have tons of projectors, screens and TVs.  All of our equipment is extremely high end, bright and clear.  We regularly help host events that have a lot of coordination between the presenter, computer operator, DJ/audio tech and lighting.  This is where it is extremely important to have a pro like us by your side!
Concert Quality Sound Systems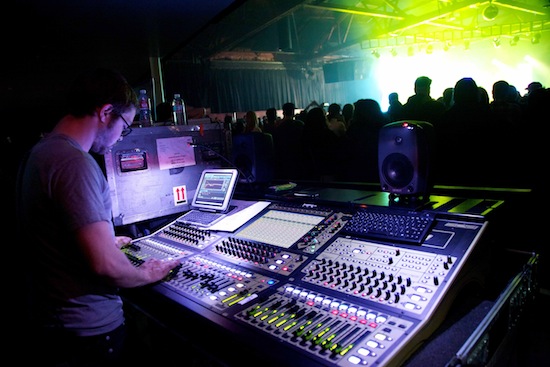 Large events need big-time sound and All Around Raleigh DJ has BIG TIME sound quality! Our large-scale, concert quality sound systems can provide smooth consistent sound levels to even the biggest events with ease. Our professional audio experts to oversee and manage your sound perfectly for the entirety of your event.
Full-Service Lighting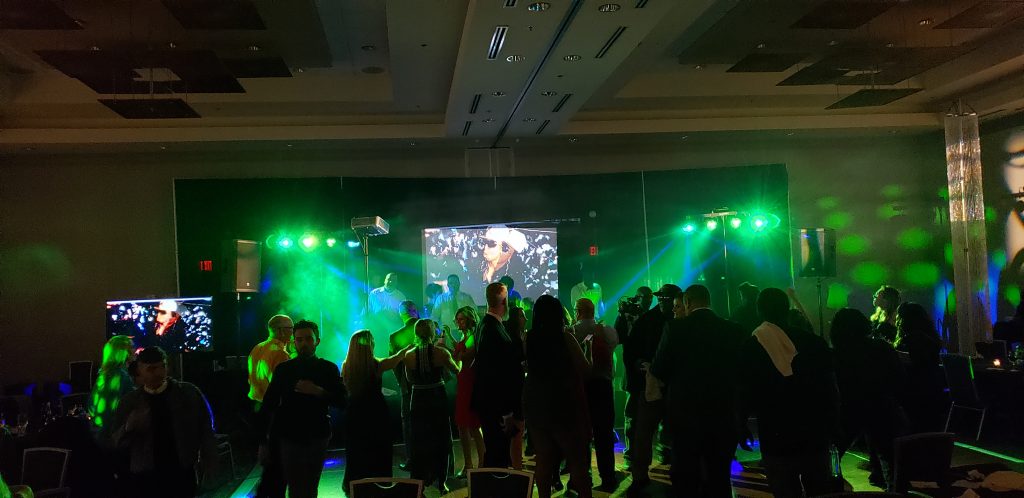 In addition to staging and sound, the newest and most amazing lighting must be used to get the most from your budget and to be able to fit your desired event style. We are proud to offer full-service lighting for large events. We can do it all for you, from turning your space into a themed event space to turning it into the hottest night club for one night or adding some textured effects to the walls and ceilings.
Beyond your standard event lighting, we can also provide custom-projected logos, monograms, images and slideshows to put your unique branding and style on display. These are the visual touches that can set your event apart and create that exclusive atmosphere you're seeking.
Complete Event Planning & Coordination
If you need expert full-service event planning and management, All Around Raleigh DJ Company is your trusted partner. We specialize in helping our clients bring their vision to life, from concept to successful large event. No matter what the size or scope of your needs, we have the people, experience and know-how needed to plan, set up, manage, host, clean up and break down your event with distinction.
Let's Get Started with Your Large Event Today!
Are you planning to host a large event anywhere around the Raleigh/Durham area? If so, you have a lot on your plate! Reach out to All Around Raleigh DJ Company. We're here to support you, handle all your large event production needs and give you the time you need to focus on the important details. Call us today at (919) 757-8296 or contact us online to get started.
Schedule a Consultation Today!