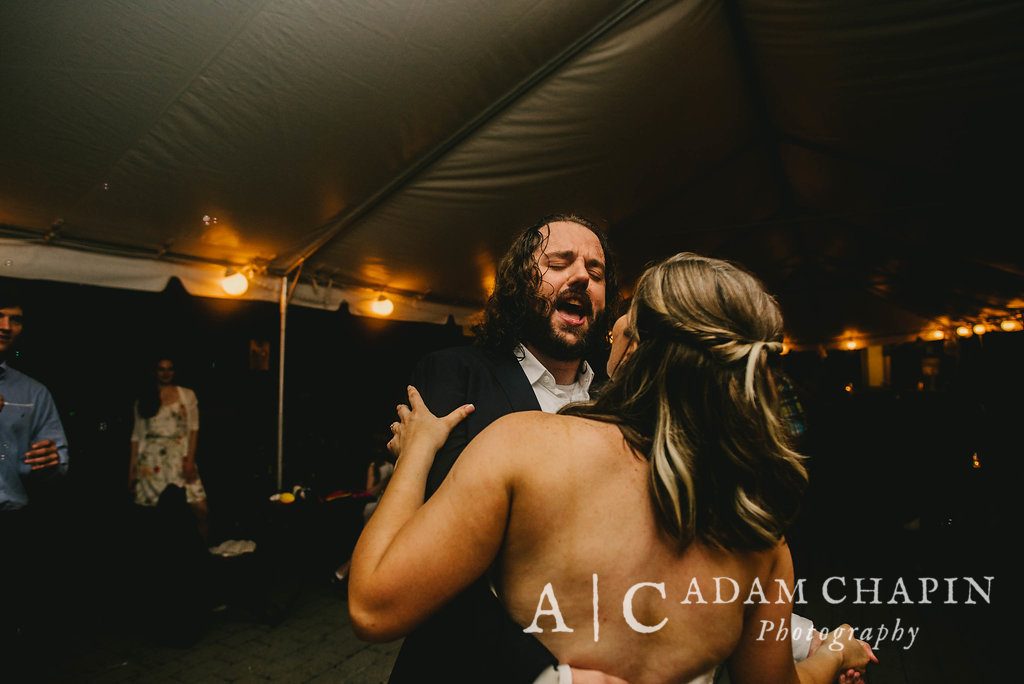 You know it is going to be an amazing wedding when the bride and groom choose a Johnny Cash song and a Jimmy Hendrix song for their wedding ceremony!  Cody & Amy were two of the most fun clients that we have ever worked with.  We got to meet with them several times and it helped to really get a good idea of their nontraditional (see: awesome) wedding ideas and favorite music. Amy & Cody chose. They chose to have their wedding ceremony and the reception at Sitti's Jiddi Space and Courtyard and we provided audio for the ceremony as well with lapel microphones. The Jiddi Space and Courtyard at Sitti Restaurant is a hidden gem of a wedding venue.  It is located right in downtown raleigh and offers an outdoor courtyard as well as an indoor space just in case.   It turns out that 'just in case' was pretty important even though they had a tent covering the courtyard because the rain came down hard and fast about an hour before the wedding began but the amazing staff took care of everything so when the rain stopped ten minutes before the ceremony everything was in place to get everyone seating. Their photographer, Adam Chapin Photography, was amazing to work with and pulled off some beautiful photos of the bride and groom even with the downpour.
The wedding ceremony and reception were absolutely on point for Cody & Amy's style and wedding vision!  It was fun, casual and a family-oriented celebration of them and their favorite people in the world. The dinner was amazing of course, the dancing was amazing and everyone had so much fun! Enjoy the photos below from Adam Chapin Photography.
Here is Amy & Cody's review of All Around Raleigh DJ Company:
"Eric was one of the first people we hired for our wedding, and he really helped us go through the entire process. He saved us money on who to hire and who not to hire, recommended other vendors, and was a calm voice through the entire process. The day of the wedding he was amazing. He rolled with a couple of last second changes we made, and kept everyone dancing all night. He was great. You should hire him for your wedding." – Cody & Amy 
Check out Amy & Cody's Wedding Vendors!
Venue & Catering: Sitti Restaurant Jiddi Space and Courtyard
Photographer: Adam Chapin Photography
Wedding Florist: Floral Dimensions
Wedding Ceremony Officiant: Emily Gabrian
Tent Rental: DeeJay's Event Rentals