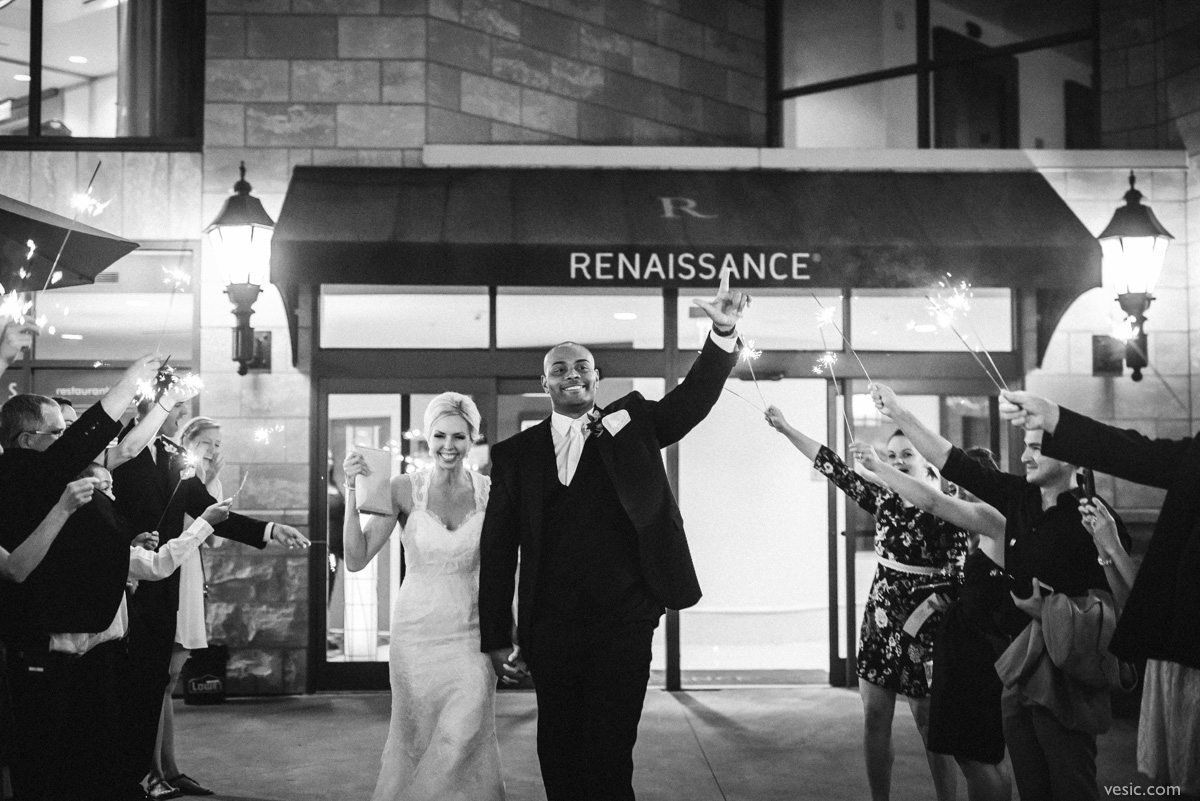 Tiffany & Chris were married at Jones Chapel at Meredith College and their reception was at Renaissance North Hills Hotel in Raleigh, NC on May 23rd, 2015 on an absolutely beautiful North Carolina day.  Tiffany & Chris were amazing clients to get to know during our many 'meetings'at Tyler's Taproom at Seaboard Station.  They wanted an absolute blow out party after all the formalities were done and that's what they got!  We had a packed dance floor from start to finish and snuck in some amazing old-school tracks that blew the top off the venue but the song of the night had to be 'The Man' by Aloe Blacc!  Thanks for being such amazing clients.
Here are the amazing wedding vendors that we got to work with and who did such a great job for our couple:
Vesic Photography – Vesic Photography is simply the best photographer that I have ever worked with and you can see his amazing work below.
Ed Sansbury – Ed is a wonderful wedding officiant and I am lucky to have worked with him at many events.  Always a pleasure to be around and always does a great job for his clients.
Fresh Affairs – The Fresh Affairs team is one of the best local wedding floral designers and is another one of our preferred vendors!
Sweet Memories Bakery – Sweet Memories is so wonderful to work with.  I always hear the clients rave about how good the cake is and … isn't that what it is all about?!
Tiffany Mentrak – Tiffany and her team are very talented professional hairstylist.  We always see her great work but we just don't get to see her enough!
Southern Video Design – John is so great to work with!  We have worked with him multiple times and are amazed at how great his videos are but we never even know he's there shooting such great footage!
---
Tiffany & Christopher
Wedding Planner
The Renaissance North Hills, 4100 Main at North Hills
5:00 pm – DJ Set up with wireless mic for Officiant at Jones Chapel at Meredith
7:15 pm – Cocktail Hour at The Renaissance
7:20 – Grande Entrance
Song is 'GDFR' by Flo Rida
Song is 'Bring 'em Out' by TI
Song is 'Hypnotize' by Notorious BIG
Song is 'Yeah' by Usher
Song is 'All I Do is Win' by DJ Khaled
Song is 'Party Up in Here' by DMX

Matron of Honor and Best Man

Song is 'Turn Down for What' by Lil Jon

Mr. and Mrs. Christopher & Tiffany!!
7:25 – First Dance
Song is 'Latch' Acoustic version by Sam Smith
7:30 – Mother/Son and Father/Daughter
Song is 'Stand by Me' by Ben E. King
7:40 – Dinner Begins
Blessing/Welcome by Best Man
8:30 – Toasts by Best man and Matron of Honor
8:40 – Cake Cutting
Song is 'Build me up Buttercup' by Foundations
8:45 – Party Time!
Start with Anniversary Dance
11:15 – Expected end of Tiffany & Chris's Wedding
Last Song is 'Let's Get it On' by Marvin Gaye