Olivia & Gerry's wedding reception at The Umstead in Cary, N.C. was such a memorable night!  The Umstead had the reception area looking beautiful and one of the first things you saw was their custom neon that said 'To The Moon And Back' which is such an awesome touch.
The Wedding Party entered the reception to "DJ Got Us Fallin In Love" by Usher and then our Olivia & Gerry entered to an energetic welcome to "Feeling Good" by Nina Simone just as the energy and tempo started to build. We played a wide variety of dinner music from Big Band to Motown and then it was on to the toasts which are always one of our favorite parts of the night!  Olivia and Gerry's first dance was next to "I Do" by Alloy Black (check it out if you don't know it!) followed by the Father/Daughter Dance to "Unforgettable" by Nat King Cole with Natalie Cole and then the Mother/Son Dance to "Humble & Kind" by Tim McGraw.   The night moved smoothly into the Cake Cutting to the open dance floor with the first song being "Dancing In The Moonlight" by King Harvest.  After some fun dancing, it was time to get all the married couples to the dance floor for the Anniversary Dance to "Perfect" by Ed Sheeran.  The dance floor kept going to "Suavamente" by Elvis Crespo and the Last Song of the night was "Take Me Home Tonight" by Eddie Money which was a huge hit.   As the guests lined up to send our bride and groom off, they danced down the line to "Shake Ya Tailfeather" by Nelly … what a great song to end the night!
Check out the photos below from one of best friends Joe Payne Photography.  You'll love the Scottish wedding touches, amazing decor and beautiful venue.  What a fun night celebrating Olivia & Gerry and their friends and family!
Here is Olivia & Gerry's Amazing Wedding Vendor Team!
Venue:  The Umstead
Wedding Cake:  Ashley Cakes
Photographer: Joe Payne Photography
Wedding Coordinator:  A Southern Soiree
Hair and Makeup:  Ashley Mooney Hair & Makeup
Florist:  An Event To Remember
Ceremony Musicians: Duo Licht
Rentals:  Curated Events
Lighting: Brite Creations
Olivia & Gerry's
Wedding Timeline
6:00 – Introductions to "DJ Got Us Fallin' In Love" by Usher
*Wedding Bridal Party is all coming in together
6:02 – Introduction of Bride and Groom to "Feeling Good" by Nina Simone-Start at build of song
6:05 – Welcome by Bride and Groom
6:07 – Dinner Music – Big Band then into Motown
7:00 – Toasts
*Parents of the Bride
*Best People come up together
*Jerry's Best Men
7:20 – First Dance to "I Do" by Alloy Black and Lee Ann Rimes end at ~2 min
7:22 – Father/Daughter Dance – "Unforgettable" by Nat King Cole and Natalie
7:25 – Mother/Son Dance to "Humble & Kind" by Tim McGraw end at ~2 min
7:37 – Cake Cutting to "Dancing In The Moonlight" by King Harvest
7:40 – Anniversary Dance- "Perfect by Ed Sheeran" then into "What A Wonderful World" by Louis Armstrong
7:45 – Open Dance Floor with "Suavamente" by Elvis Crespo
8:50 – Bouquet Toss to "Voulez-Vous" by ABBA (For all ladies single & married)
9:55 – Last Song to "Take Me Home Tonight" by Eddie Money
10:00 – Bride & Groom Exit to "Shake Ya Tailfeather" by Nelly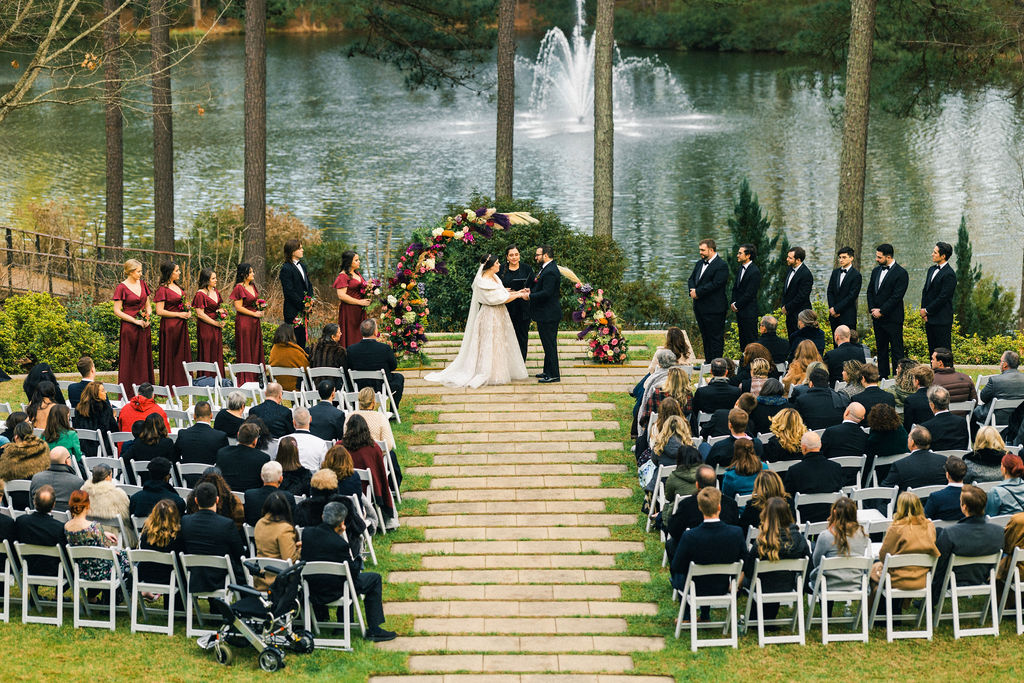 Olivia & Gerry's Wedding at The Umstead by Joe Payne Photography