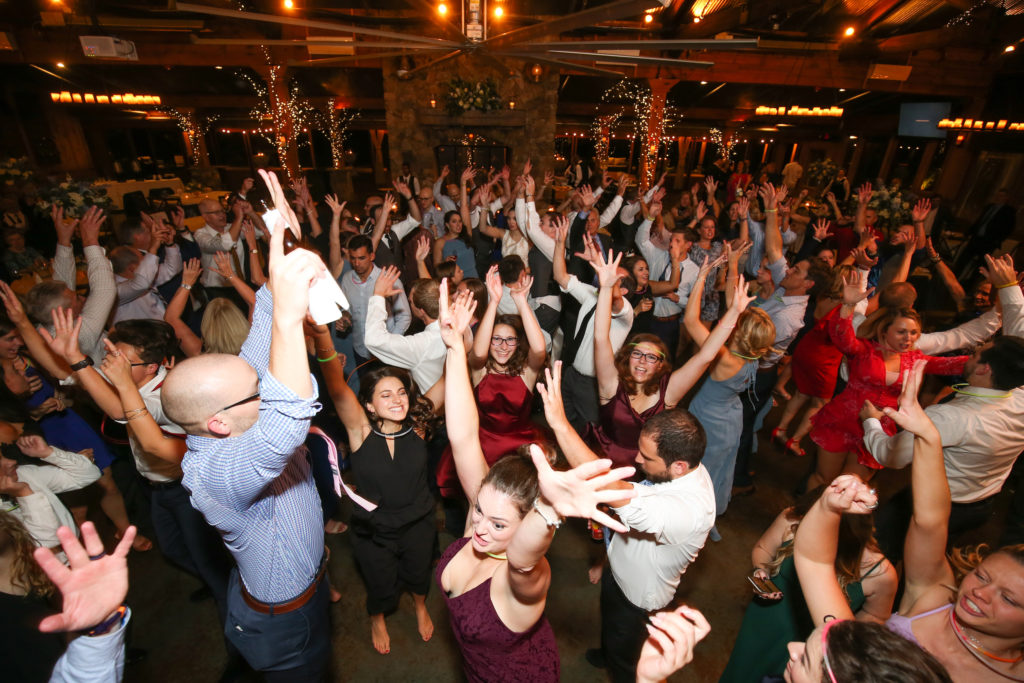 Michelle & Joseph were incredibly fun to work with and had a really fun vision for their wedding day. We met this lovely couple about six months before their wedding date and they immediately let us know that they wanted the best DJ company to make sure their family and friends had an amazing time since so many were coming from out of town and they were very special to them.
The wedding took place on a beautiful evening with a casual cocktail hour using the outside/inside The Pavilion at Angus Barn.  We announced the parents, bridal party and bride and groom during a rousing grand entrance to 'Dynamite' by Taio Cruz followed immediately by the 'I Don't Dance' by Lee Brice.  We rolled right into dinner by the amazing Angus Barn following a welcome and blessing.  After dinner we enjoyed toasts and cake cutting before the special family dances.  We opened up the dance floor with an anniversary dance because family was especially important to Joe & Michelle.  After that the dance floor was absolutely packed from start to finish.
You're going to love the video by Morgan Scott Films and photos by Southern Love Studios (no longer in business).
Thank you for treating us to a wonderful evening and best wishes to Michelle & Joe!
Michelle & Joe's Wedding Vendor Team
Venue and Catering: The Pavilion at Angus Barn
Wedding Videographer: Morgan Scott Films
Transportation:  EcoStyle Transportation
Photographer: Southern Love Studios
Florist:  Brides & Bouquets
Rentals: CE Rental
Michelle & Joseph's
Wedding Timeline
5:30 – Cocktail Hour outside patio
6:20 – Guests invited to sit for dinner
6:30 – Grand Entrance 
Song is 'Dynamite' by Taio Cruz

Parents of the Groom

Parents of the Bride

Bridal Party

Maid of Honor and Best Man

Mr. and Mrs. Joe and Michelle!!
First Dance
'I Don't Dance' by Lee Brice

Michelle and Joe
6:50 – Dinner
Welcome by Michelle's Dad, Blessing by Michelle's God Father
7:35 – Toasts (w/drink in hand)
Maid of Honor and Best Man
7:45 – Cake Cutting – song is DJ's choice
7:50 – Father/Daughter Dance
Song is 'My Girl' by Temptations

Michelle and John – invite other father-daughters to join 
7:55 – Mother/Son Dance
Song is 'Humble and Kind' by Tim McGraw

Joe and Chris – invite other mother-sons to join
Anniversary Dance song is 'Can You Feel the Love Tonight' by Elton John
8:00 – Dancing!!
~9 pm – Bouquet Toss song is 'Single Ladies' by Beyonce
10:30 – Expected End of Michelle and Joe's Wedding
Last songs are 'Bye, Bye, Bye' by N'Sync then 'Closing Time' by Semisonic

Sparkler exit