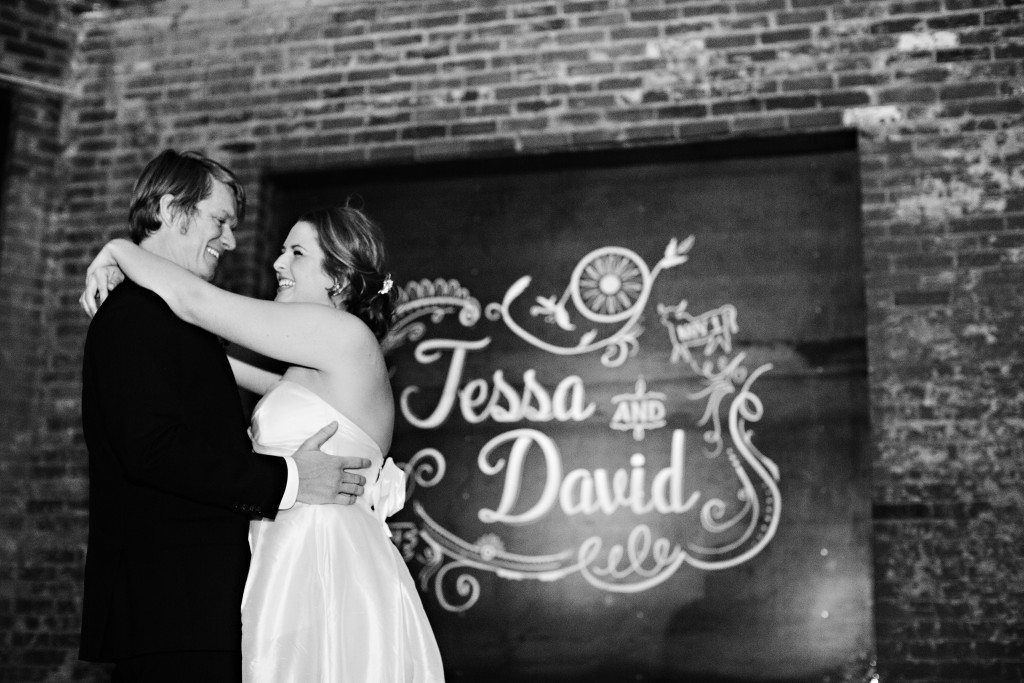 Tessa & David were married and had their reception at The Cookery in Durham, NC.  This wedding had a very classic feel yet was a ton of  fun for all of their guests and all of us wedding vendors too.  Most of the guests came in from out of town and were treated to an absolutely amazing evening of celebrating with the newlyweds.  We could immediately tell that everyone was old friends and this was going to be a special night … and it was!  This crew had some very unique song choices (which makes it fun for us)  and everyone packed the dance floor all night.  Tessa and David absolutely did not want any group dances like the Electric Slide or Cupid Shuffle.  You can scroll down to see some of Tessa & David's fun music choices and some of the great photos of the evening.
Visit the wedding vendors that helped make Tessa & David's wedding amazing!
 Venue:  The Cookery is full of that exposed brick and classic touches that a lot of couples are looking for.  Throw in great drinks and great people and you have an amazing wedding venue.
Catering:  Sage & Swift Gourmet Catering treated everyone to a perfect meal and even put out late night snacks!
Month of Coordination:  Knots 'N Such was the perfect planner for Tessa & David.  Amy was easy to work with and she made sure that the bride and groom had a fun and relaxed wedding day from start to finish.
Photography:  Jessica Arden Photography provided the spectacular photos that you see below.  Great job of creating lifelong memories Jessi!
Rentals:  American Party Rentals set up the ceremony tent.  They are great to work with and we can always count on them to take care of our clients.
Linens:  CE Rental took care of the flair and provided beautiful table linens.  CE Rental is the area's go-to linen rental company!
Tessa & David's Wedding Planner
The Cookery, Durham, NC
6:15 pm – DJ set up and playing prelude music with lapel mic and mic on stand
6:45 pm – Ceremony Begins
Pre-Processional Song is 'North' by Phoenix (cut short as needed)

Processional song is 'Here, There and Everywhere' by The Beatles

Brides' entrance song is 'Canon in D' by Pachebel

Recessional song is 'Rather Be' by Clean Bandit
7:15 – 8:00 – Cocktail Hour
80's and 90's music and music from request list
8:15 – Toasts During Plated Salad
Janice and Pat, Pat , David's Dad Steve , Maid of Honor Kate, Best Man Ryan
8:30 – Dinner Begins
9:30 – First Dance
Song is 'Wild Horses' by The Rolling Stones
9:35 – Father/Daughter and Mother/Son Dances
Song is 'Isn't She Lovely' by Stevie Wonder (~2 min of song)
9:45 pm – Grand Entrance right on to the dance floor
Song is 'Mr Brightside' by The Killers

Tessa's Grandparents Aline and Gerald (might stay at their table)

Tessa's Grandparents and John

David's Parents Todd and Steve

Tessa's Parents Janine and Patrick

Jr Bridesmaids David's Nieces Katy and Elsie

Tessa's Sister Sophie escorted by Sean

Tessa's Sister Alisha escorted by Leo

David's Sister Annie escorted by Josh

Maid of Honor Kate escorted by Best Man Ryan

David and Tessa!!
9:50 – Party Time!!
11:25 – Expected end of Tessa and David's Wedding Spectacular
Tessa & David's Favorite Music
Robyn – "Dancing on my Own"
Eddie Money – "Take me Home Tonight"
Peter Cetera – "Glory of Love"
Ginuwine – "Pony"
Mumford and Sons – "I Will Wait"
Eve 6 – "Here's to the Night"
Yellowcard – "Everywhere"
Backstreet Boys – "I Want it that Way"
Real Life – "Send me an Angel"
Sum41 – "Fatlip"
Joe Esposito – "You're the Best Around"
Blink 182 – "Dammit"
Lit – "My Own Worst Enemy"
Alien Ant Farm – "Smooth Criminal"
Green Day – "When I come around"
Foo Fighters – "Everlong"
N Sync – "Tearin up my Heart"
Justin Timberlake – "Cry me a River"