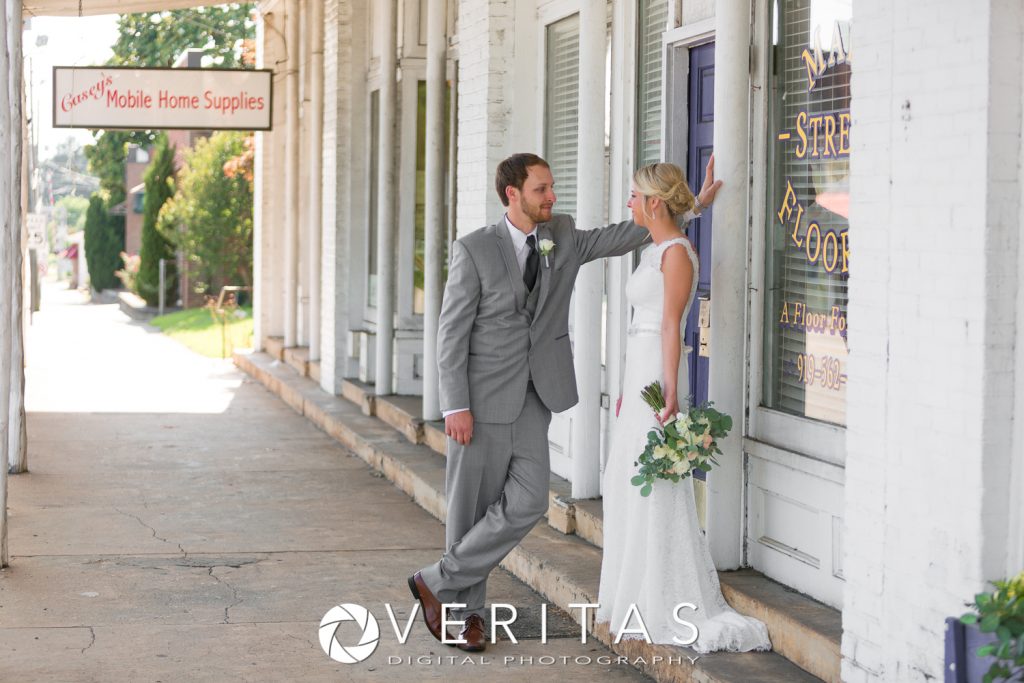 Sometimes clients hire us only a few weeks before their event and sometimes they reach out to us very early in the process.  Ashley & Patrick hired us almost a year before their wedding because they REALLY wanted to have an amazing wedding reception that flowed smoothly and was a blast for all age groups on their wedding day…and they got it!
Ashley & Patrick's had their small town feeling wedding reception out at the lovely Cross + Main in Youngsville, NC. They did their staged photos with Veritas Digital Photography out on Main Street with all of the quaint small town signs and storefronts.  Then they moved inside for the reception.
The buffet by Rocky Top Catering was amazing, of course!  Ashley and Patrick have very diverse musical tastes. The Grand Entrance was to 'Uptown Funk' by Bruno Mars then we shifted into the first dance which was to the lovely tune 'Unchained Melody' by Elvis Presley with the Mother/Son and Father/Daughter dances to 'My Wish' by Rascal Flatts and 'I Loved Her First' by Heartland respectively.
There were two things that really made this wedding unique: they made it very clear to us that it was important to incorporate their older guests into the wedding dancing so played a lot of fun older dance tunes, but after all IT IS a wedding, so things got a little out rowdy as the night went on.  Also the toasts from Ashely sister, who was her Maid of Honor and Patrick's Best Man were AMAZING!  We've got some great shots on our trademark vintage microphone (which we made wireless!) in the photos below.
Say Hi to Ashley & Patrick's Amazing Wedding Vendor Team!
Venue: Cross + Main
Photographer: Veritas Digital Photography
Florist: Brandi's Botanicals
Caterer: Rocky Top Catering
Rentals: CE Rentals