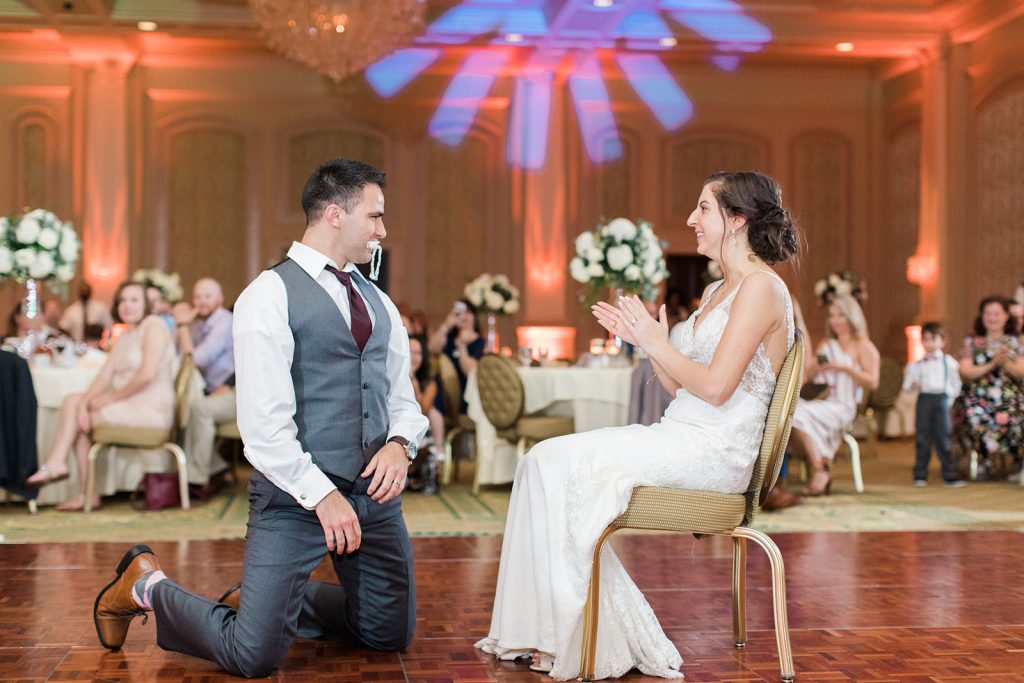 Chris & Evi were married and had their wedding reception at Prestonwood Country Club in Cary, NC.  Thanks for letting us celebrate with you and best wishes! We will never forget your wedding
Chris & Evi's Vendor Team
Venue:  Prestonwood Country Club
Officiant: 
Photography:  Bowtie Colllaborative
DJ: Brian with All Around Raleigh DJ
Wedding Event Lighting and Uplighting: All Around Raleigh DJ Company
Event Coordination and Planning: Sally Oakley Events
Wedding Florist: Knots n Such
Hair and Makeup: Silver Ceiling
Videographer: Blu Couture
All Around Raleigh DJ performed at our wedding and my husband and I could not have been more pleased with them! We worked specifically with Brian who did an amazing job choosing just the right songs for each moment on our big day. Good music really sets the mood, and it was nice to see all of our guests enjoy themselves the whole time. Highly recommend them! – Evi & Chris
Evi & Chris's Wedding Planner
Prestonwood Country Club
6 pm – DJ set up and playing music.  Ceremony musicians will start playing.
6:30 – Ceremony Begins
DJ will provide microphones for ceremony musicians and Officiant
6:55 to 7:50 – Cocktail Hour
8:00 – Grande Entrance
Song is 'Young Blood' by The Naked and Famous
Melissa and Carter
Adam and Michael
Sarah and Nick
Jessica and Kyle
Maggie and Aaron
Mr & Mrs Chris & Evi!!
8:10 – Dinner Begins
Blessing by Evi's Father John
8:50 – Toasts
Evi and Chris will give a quick toast before Aaron and Maggie
Best Man and Matron of Honor
9:00 – First Dance
Song is 'I Would Do Anything For You' by Foster the People
9:05 – Father/Daughter Dance
Song is ''Isn't She Lovely' by Stevie Wonder (end at ~2 min)
John and Meg
9:10 – Mother/Son Dance
Song is 'Momma' by Boyz II Men (end at ~2 min)
Jason and Tamara
9:30 – Cake Cutting
Song is 'Sweet Disposition' by Temper Trap
9:35 – Party Time!!
12:00 – Expected end of Evi & Chris's Wedding Spectacular