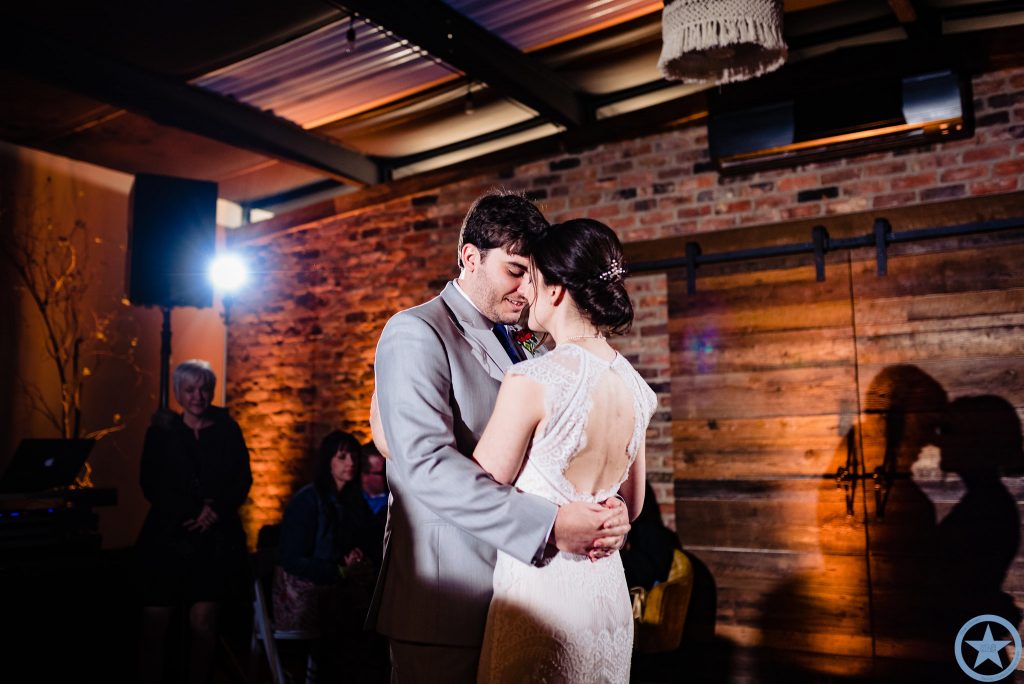 Like many of our clients, Dale & Jake live out of state so we planned everything electronically.  We have so much experience with this now that the process is pretty well refined and everything went off without a hitch!  Working with a wonderful planner like Amy at Knots 'n Such always helps a ton too.  Dale & Jake chose The Meadows at Firefly Farm Preserve for their wedding venue. This venue is BRAND NEW and STUNNING.  This was only the second event their but you wouldn't have guessed it because the whole amazing staff was prepared for everything and ready to help at a moment's notice.  The rain may have been relentless and cold but these clients and their guests were so good-spirited, fun and ready to celebrate that it didn't even matter. They had a wonderful ceremony inside the larger wedding space and then everyone came next door to The Green Room to dance and celebrate the second half of the night.  Check out the very impressive photos below from Kivus and Camera!
To start their reception, we brought the bridal party in to "Fire and the Flood" by Vance Joy.  Their guests were excited, loud and clearly ready to rock!  The amazing dinner by Fresh.Local.Good Food Group followed and then immediately after that we did the cake cutting and toasts. After toasts (really fun toasts btw!), we all watched as Dale & Jake had their first dance to "Ocean's Away" by Arizona which was followed by "Stand by Me" by Ben E King for the Mother/Daughter Dance and the Mother/Son Dance to "She's Always a Woman' by Billy Joel."  Now, we should say that all wedding parent dances are special but the song Jake chose for his Mom's dance was a surprise to her and she cried on her son's shoulder for the whole dance….we had to look away! At first Dale and Jake were going to give us playlists for dancing but after some thought, they decided that wanted to give us complete freedom to choose the music. We do appreciate the trust y'all!  Turns out that we got to throw this amazing couple one of the most amazing parties ever with a packed dance floor for two solid hours which was capped off with the very fun 'Inspector Norse' by Todd Terje. From Jake's review on Google: "He helped take the reception from good, past memorable, and made it all the way to legendary occasion amongst our friends."   Thank you to Dale & Jake for reminding us why we love our job so much!
Here are Dale & Jake's reviews of our DJ service:
""When "Africa" by Toto started playing during the reception, I knew we had found the right D.J. Every song was perfect and perfectly timed, and Eric listened to all requests and read the room really well. He talked to everyone and was a great emcee for the toasts. We loved working with Eric and would recommend him wholeheartedly to anyone else who's looking for a wedding D.J.!" – Dale (Read this review online)
""I got this." These were the words Eric gave us in an email the night before our wedding. Let me tell you, he wasn't kidding. He was absolutely phenomenal in every way. He wasn't just a part of the wedding, but a boon to the wedding. He he helped take the reception from good, past memorable, and made it all the way to legendary occasion amongst our friends. If you need a DJ for any situation, All Around Raleigh DJ will be the best you'll get." – Jake (Read this review online)
Check out Dale & Jake's Wedding Vendors!
Venue: The Meadows at Firefly Farm Preserve
Coordinator and Florist: Knots 'n Such
Photographer: Kivus and Camera
Caterer: Fresh.Local.Good Food Group
Linens: CE Rental
Wedding Cake and Desserts: Cuisine Lucette
Hair and Makeup:  Parlor Blow Dry Bar
Transportation:  White Horse Private Transportation