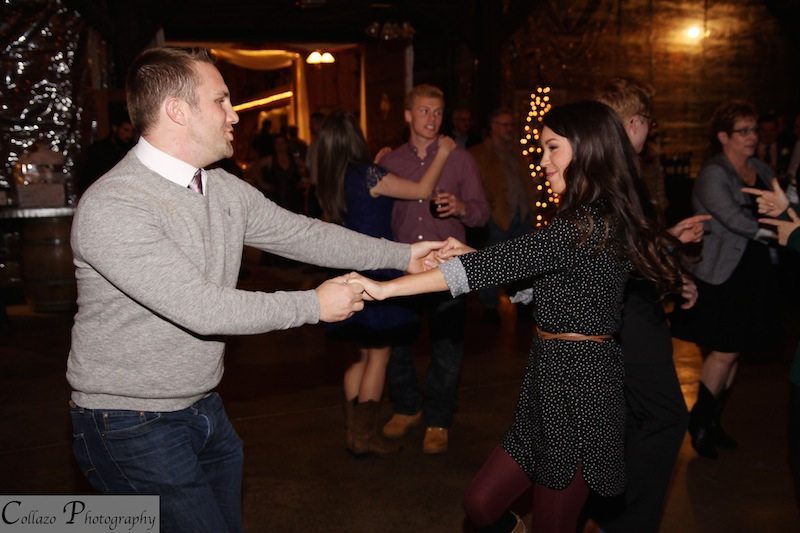 First of all, Miranda and Nick are awesome!  They were a lot of fun to DJ for with a great group of friends and family to help them party away their wedding night.  We got to provide ceremony music from about 2 feet behind the bride and groom during the ceremony (that was a first!).  The date was December 20th so the good people at Shad Wagon Farms brought down the walls on the gazebo dance area and cranked up the heaters as we cranked up the dance floor.  Look below for a bunch more great photos!
A big thank you to all of the phenomenal vendors that we got to work with:
Venue: Shady Wagon Farm was as beautiful as ever even in the depths of winter here in North Carolina.  I am amazed at how well this venue adapts to the change of season and change of bride's style.
Planner: Jessica King from Happily Ever After was the planner/coordinator.  Jessica was great to work with before and during the wedding.  She was very organized and accommodating!
Catering: The incredible southern food menu was provided by Jenn Carlin and her team of pros at Rocky Top Catering.  This is one of the best caterers in this area!
Photographer:  If you love the photos below then please take moment to check out the Collazo Photography Facebook page.  Lu Collazo was a blast to work with and even though we had never worked together before we teamed up to make Miranda and Herbert's wedding day exactly what they imagined.
Officiant: Rev. Barbara Lodge delivered a beautiful ceremony service … as always!  Rev. Lodge is great at her craft and she really knows how to capture her clients' day perfectly.
Florist:  Check out the great work of Flower Cupboard in the first ceremony photo below.  Great job providing Miranda and Herbert with beautiful floral arrangements!
Videography: Mark Darby was a lot of fun to work with.  We can't wait to see the awesome skills of this videographer!  Mark is professionally trained but relatively new to the wedding industry.
Here is Miranda and Nick's timeline of events and some of their song choices!
4:00 pm – Guests Begin Arriving and DJ Set Up and Playing Music Outside
DJ set up with wireless mic for the groom and wireless mic for the Officiant
4:30 pm – Ceremony Starts
Prelude music is 'A Midsummer Night' by Piano Wedding Masters
Family members seating song is 'I Will Be Here' by The O'Neill Brothers
Bridal party song is 'Butterfly Waltz' by Brian Crane
Bride's entrance song is 'Turning Page (instrumental)
Recessional song is 'A Thousand Years' by The Piano Guys
5:00 to 6:00 pm – Cocktail Hour
6:05 – Grand Entrance
I Gotta Feeling' by Black Eyed Peas
Miranda's parents
Nicholas's parents
Bridal Party
Matron of Honor and Best Man
Mr and Mrs Nicholas and Miranda!!
6:10 – First Dance
Song is 'My Best Friend' by Tim McGraw
6:15 – Father/Daughter Dance
Song is 'You've Got a Friend' by James Taylor
6:20 – Mother/Son Dance
Song is 'That's What Mamas Do' by Jason Matthews
6:25 – Dinner
Music style is new and old Country Music **'Forever and Ever, Amen' by Randy Travis**
7:15 – Toasts by Best Man and Matron of Honor
7:20 – Pie Cutting
Song is 'How Sweet It Is' by James Taylor
7:30 – Party Time!!
8:30 – Bouquet and Garter Toss
Bouquet Toss song is 'Single Ladies' by Beyonce
Garter Toss song is 'Let's Get it On' by Marvin Gaye
10:00 – Expected end of Miranda and Nicholas's Wedding Spectacular
Last song is 'All of Me' by John Legend
Grand Exit song is 'I've Had the Time of My Life' by Bill Medley