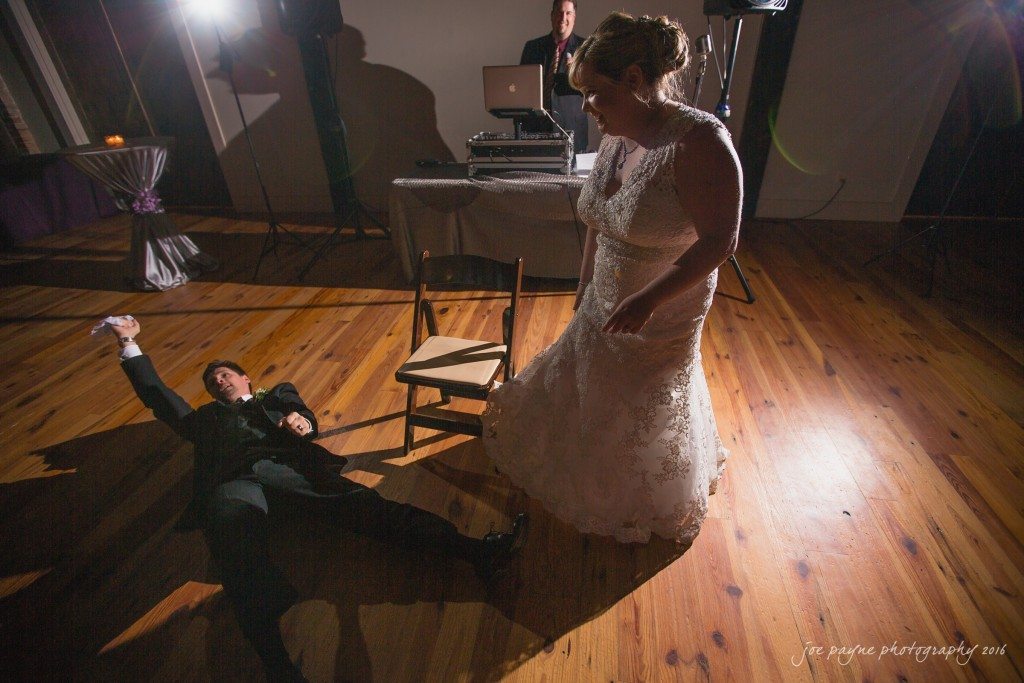 Julie & Keith had an amazing wedding ceremony and wedding reception at Cross + Main wedding venue on a wonderful Spring day in Youngsville, NC.  After their very touching wedding ceremony the couple took some time with their wedding photographer, Joe Payne, to get some amazing shots nearby which included some great small town shots and even some in the nearby green fields.  When they all got back it was DJ Michael's turn to take over and he smoothly moved the evening along from dinner to toasts, cake cutting and special dances all the way into the dancing and bouquet and garter toss and eventually Julie and Keith's grand exit.  Make sure you check out the great team of vendors below and Joe's great photos of the perfect wedding photos.  Thanks for reading!
Julie & Keith's Review of All Around Raleigh DJ on Wedding Wire
"I worked with All Around Raleigh DJ for our wedding … and they were excellent! I worked with Eric to set up payment and go over the contract, but Michael, our DJ, he was awesome. We met 2 times in person and we had one conference call. We probably would have met three times, but because of my finance's living situation (he was still in Columbia, SC!) Michael was able to confirm all of our details a few days before the wedding to calm our nerves. He played all the songs we liked and at the right moment. Everything was seamless. If I could do it again, I wouldn't change a thing! This is a fantastic and honest company. Thank you!"
Wedding DJ: Michael Gay – All Around Raleigh DJ Company
Wedding Venue: Cross and Main – We love this classic venue with the exposed brick and open space!
Wedding Photographer:  Joe Payne Photography – Thanks for all of your help putting this together!
Wedding Ceremony Sound: Michael Gay – All Around Raleigh DJ Company
Wedding Cake: Sweet Traditions
Wedding Caterer: Cannon Catering
Wedding Florist: North Raleigh Florist
Wedding Bartending Service: Pour Bartending
Bride's Wedding Dress: Evelyn's Bridal
Bride's Hair Stylist & Makeup: Ulta Raleigh
Wedding Linen Rental: CE Rental